Not Found
Apologies, but the page you requested could not be found. Perhaps searching will help.
Kvalitetni ponudniki:
WIGO HAUS, Mirko Zorčič s.p.
Podjetje, ki slovi po kvaliteti in izkušnjah, ki so si jih nabrali v mnogih letih delovanja in gradnji montažnih hiš.
KOBAL suha gradnja
Podjetje z Jesenic se lahko pohvali z natančno zgrajenimi unikatnimi montažnimi hišami, ki jih uredijo glede na želje naročnika.
Ali ste vedeli?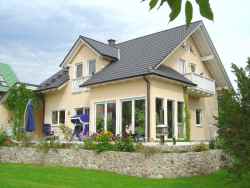 Z gradnjo stanovanjske hiše v nizkoenergijski ali pasivni tehnologiji , se lahko potegujete za sredstva eko sklada in na ta način si povrnete 30% vseh stroškov nastalih z gradnjo, v kolikor tako zgrajena stanovanjska hiša zadovoljuje naslednje pogoje:

• energijska učinkovitost stavbe Qh ≤ 35 kWh/m2a

• v objekt je vgrajen sistem prezračevanja z vračanjem toplote odpadnega zraka (rekuperacija)

• vsaj 25% skupne potrebne toplote za ogrevanje in pripravo sanitarne vode je zagotovljeno iz obnovljivih virov energije